Olivotto's family : Italian Olive Oil Sellers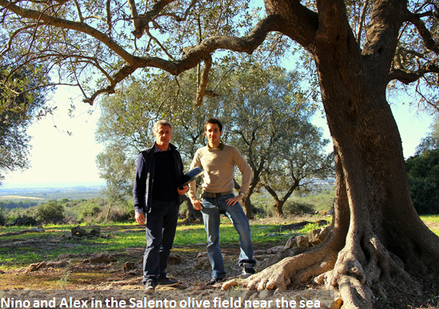 Nino Olivotto and his son Alex, the youngest of three, live in Salento and they are fully dedicated to Olive Oil. After spending many years in producing our own olive oil in Torre Borraco , close to Manduria in Puglia, Nino and Alex decided to launch in 2012 a start up company fully dedicated to international selling of Italian Premium Olive Oil: Olivotto s.r.l.c.r.

The company has the vision of :

1) Making available the best Extra Virgin Olive Oil as measured by international Standards for Grade.
2) Spreading the culture of quality Italian olive oil.
3) Innovating the millennial olive oil value chain of Salento with
modern technologies both in product sourcing and selling.



Nino worked for many years for large American corporations (Microsoft, Digital, Ernst&Young) and transfers his knowledge of management to the production and distribution of his olive oil worldwide. Under the guidance of its mastro oleari, every year, Olivotto selects the best olives at the optimal time in Salento based on geo-climate conditions. You can find more on Olivotto's Olive Oil on www.olivottoil.it. Olivotto is looking forward to hearing from you on our Facebook page. We fully endorse and practice the 2013 Slow Food Manifesto that you can download here with an english translation provided by us.


Ciao.